But I still find it hard.
Talking about sickness is hard because words diminish
I really struggle with this.
Every time I open a word document or begin a conversation with someone about a heart issue, I get a familiar 'tugging' feeling. It's sort of like regret.
Because when words express our thoughts and feelings they inevitably reduce them. I love words, but words are not everything. Words only scrape the surface of the huge beast that being is.

In using words and labels and phrases and dot points and sentences, I am simplifying life.
This is good, because in order to share experiences, they must be voiced.
In order to say 'me too' we must be able to state the issue in black white letters.
It's no good talking if you don't know what you are talking about.
And yet… each time I talk, each time I write, I lose.
I lose some significance, some magnitude, some nuance or shade of meaning. I can never voice exactly what I'm thinking, feeling, experiencing, and that hurts.
For me this is an exercise in self-denial.
You see, in boxing up all my experiences in tiny letters, I am trusting that what is important is how God uses my life.
The purpose of writing it not to communicate my experience exactly and perfectly, thus proving that it is significant and conferring on it a value.
It is rather to hold out my never-good-enough words, and pray that God will use them, regardless of whether I feel it diminishes the worth of my life.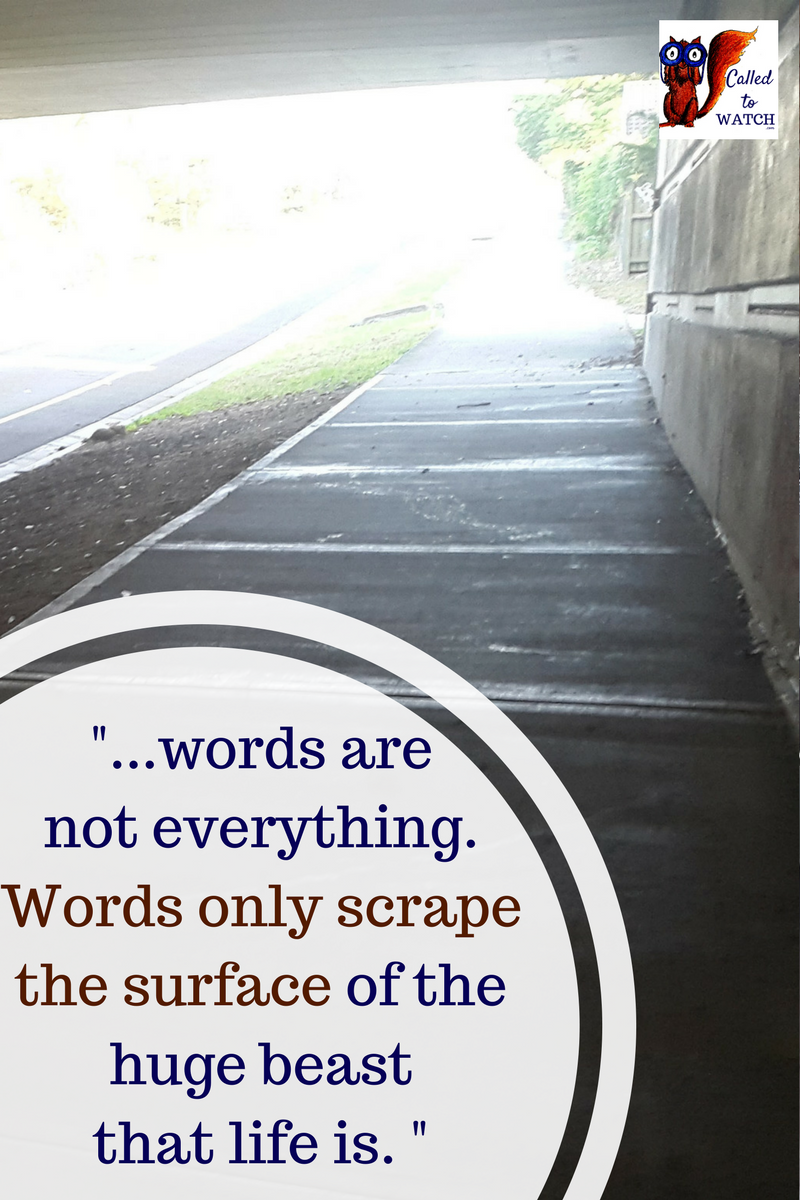 Talking about sickness is hard because pride gets in the way
I find it hard to talk about Watching because I don't have all the answers.
When I start a conversation I open myself up to the chance that I won't know how to respond. That I will stutter and turn red and back-peddle my way out again.
I also open myself and my thoughts up to criticism:
What if the other person thinks me pretentious?
What if they think I'm boasting?
What if they believe that this whole 'Watching' business is just the product of a streak of ambition and vanity?
What if they compare 'online' me to 'real' me, and find it wanting?
I find it difficult to talk about Watching because I am afraid I will be judged, or people will think less of me.
I'm terrified I won't have answers, that I will miss or ruin opportunities, that I will look back at my attempts ten years from now and cringe, and think what have I done? How childish I was. How silly.
How naïve.
And thus talking about Watching becomes an exercise in destroying pride.
Will I hold onto the fact that Jesus is all that matters, not my self-image – or will I fight to protect myself at all costs?
Talking about sickness is hard because it is uncomfortable
Whenever I enter a conversation with someone I have a choice.
Will I choose comfort or hardship? I may have to make this decision twenty times during the course of a chat.
Comfort?
Or hardship?
You see, for me, like many people, conversation can be escapism. When we talk to someone, we are (mostly) forgetting ourselves. We have a chance to look away from our own private problems. We become someone else for a while. I become, not just Emily, but Emily + The Other Person.
This can be a blessing, a good thing.
But it might not always be. You see, when we enter into a conversation with the desire to be distracted, to escape, to forget, we tend to embrace the easier path.
Perhaps that means lighter topics, when there's actually something huge on our mind
Perhaps it means asking how the person enjoyed a certain TV program, rather than asking how their relationship with their boyfriend is going.
Perhaps it means not bringing up a potentially difficult topic when the chance presents itself, perhaps it means shying away from talking about our struggles.
Don't get me wrong, there is a time and a place for 'light' conversation, just as there is a time and place for 'deep' talk.
And yet, so often I find talking about Watching hard because I'm seeking the good of myself rather than the other person. I want this conversation to comfort me. I want something light and affirming, and I don't care whether or not what I say could potentially encourage or challenge or help the other person.
I don't want to talk about something hard because it's awkward and takes time and emotional effort, and it means bearing myself and being vulnerable – and I don't want that.
This is a selfish response, but it's also a response that hides the truth.
And what is conversation for, if not for truth?
For me, talking about Watching is an opportunity to ask myself what's really important.
To examine my motives.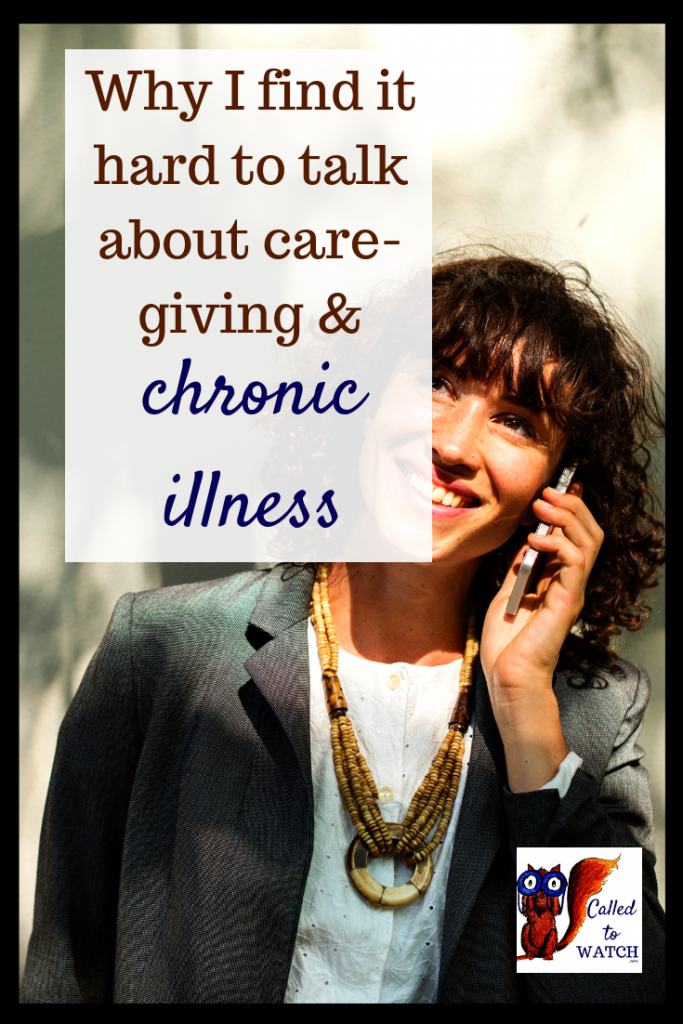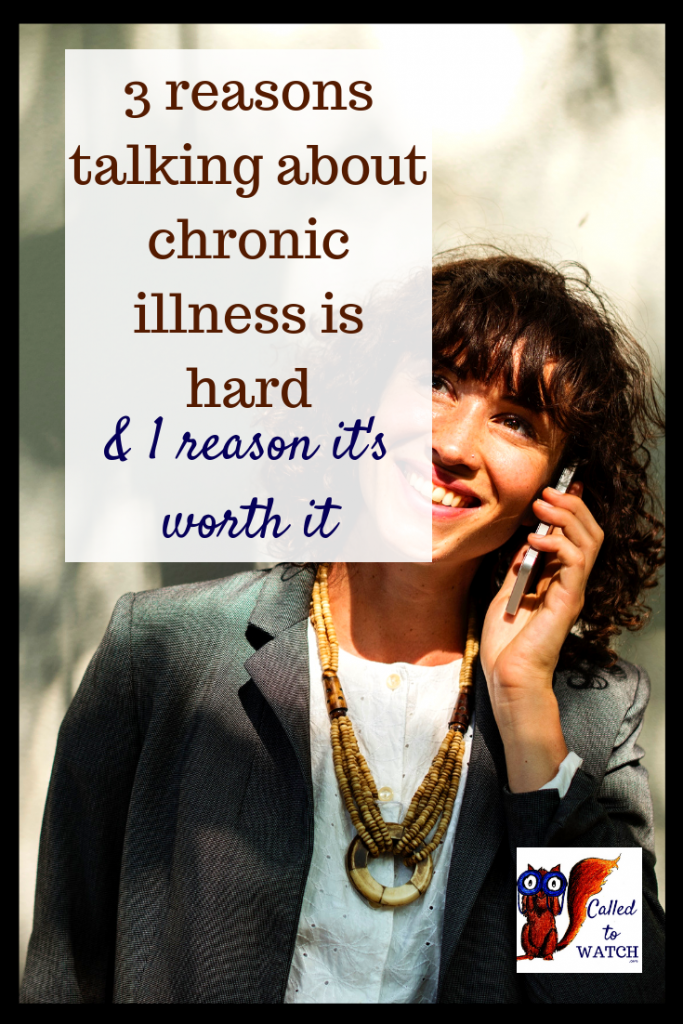 Talking about sickness is worth it
Of course, talking about Watching is always going to be hard.
It's emotional subject matter, and my culture is not good at deep conversations. It's not good at seeking answers to questions.
But so often the reasons I find talking and writing about Watching difficult are entirely selfish. And so each time I talk and write about Watching I need to hold out my hands to God.
I need to trust Him with myself, with my image, with my pride, with my comfort – rather than placing my hope in words.
Because words make the world go round, but God created the world in the first place.
Before there were words, there was God.
And He is enough.
// What about you? Do you find it hard to talk about Watching? Do you do it anyway? 
PS: Enjoyed the post above? Get the next one delivered straight to you! Sign up for email notifications  
I'm also on Facebook, Pinterest & Twitter! Meet me there for more interesting reads, resources and community.