Do you watch someone you love suffer?
First things first. 'Watchers.' Who are we?
We are the family members, the friends, the spouses, the work colleagues of individuals with a chronic illness.
That illness may be physical or mental.
It may be recognised or diagnosed. It doesn't matter. What does is that someone we love is suffering.
And that hurts.
Why the term 'Watcher'?
I was searching for a word that was all-encompassing.
I wanted to avoid the label 'carer' – which has connotations of being paid and seems constrained to mere physical care of another. Physical care is invaluable and many of us may provide this for our Loved Ones.
Yet others of us do not.
Nevertheless, our health life is mixed up with our loved one's pain-filled life.
We wince as they wince.
What does it feel like to Watch?
We find ourselves helpless, and this is painful and even embarrassing.
And this is even harder because we didn't choose to Watch.
If we love, there is no choice – because there is no sickness-free version of our loved one available.
And so we walk beside them, or in front of them, or behind them.

We cannot choose to walk a mile in their shoes, as the common saying goes.

Even that is denied us.
It's not easy being the "healthy one"
We apparently have the world at our fingertips – and yet we have unique struggles of our own:
We watch our loved one – but who watches us?
We answer the question 'How are they?' – but who asks 'how are you?' ?
As our loved ones struggle, we suffer vicariously but also personally.
There's nothing easy about Watching.
Am I really a 'Watcher'?
We're all Watchers. We all know someone who is suffering.
It's not an exclusive club. There's nothing distinguished, or heroic, or fancy about it (although, on one level, there actually is).
It's just life.
No person's load – or pair of shoes, if we are to continue the analogy – is the same as another.
And so all of us Watch, but we all Watch alone.
That's such a large part of what makes Watching so hard.
We all fear being alone, and illness just accentuates this.
Have you ever longed for someone to stand by your side, grasp your forearm and say with knowing, quiet voice and full eyes, 'I get it. I understand.'?
I have.
That is the purpose of this blog.

You see, there are two answers to loneliness:

One is community, the other is God.
Why start a blog on Watching?
Watching is a journey that never ends – and so encouragement is needed for the everyday.
It's also a journey that can have distinct beginnings and endings, and so we need help for these times too.
Lastly, Watching is a journey that, sooner or later (like every journey) will at some point encounter God. This blog is about that as well.
I don't have all the answers.
Often I have none.
Nevertheless, I pray that these words will help you ponder your life as they have helped me ponder mine – and that your experience will be the richer for it.
May they provide a feeble sense of community and a less-feebler sense of God.
Like C. S. Lewis, I have only,
"… been emboldened to write of it because I notice that a man seldom mentions what he had supposed to be his most idiosyncratic sensations without receiving from at least one (often more) of those present the reply, 'What! Have you felt that too? I thought I was the only one.'"
~ C. S. Lewis, Surprised by Joy
Welcome my friends and fellow Watchers. Shall we travel the road together?
Keep reading!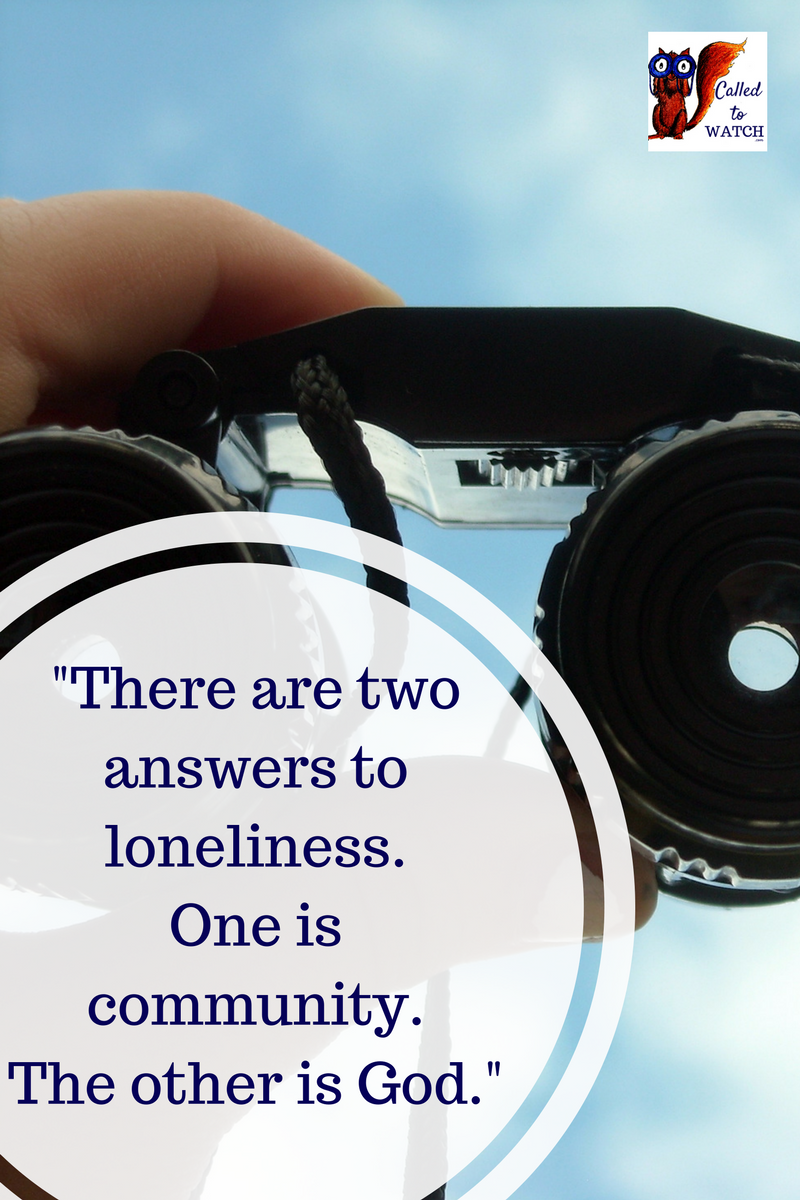 PS: Enjoyed the post above? Get the next one delivered straight to you! Sign up for email notifications  
I'm also on Facebook, Pinterest & Twitter! Meet me there for more interesting reads, resources and community.