At the moment, even as I'm preparing to look forward to Christmas, 2018, and the future – I'm also looking back.
This is what I've learnt:
1. I have everything to gain and nothing to lose
Blogging over the past year has taught me that Watching is a 'thing'. By this, I mean, loving someone with a chronic illness is a state of being worth talking about. It's a relationship worth sharing.
It's actually an important part of who I am – just as it's a crucial element to who a lot of people are!

It's taken a long time for me to realise this. Perhaps too long – but when you are in something, and living something, it's not a 'Thing' – it's just life.
And that's as it should be, in one sense.
Yet on the other hand, there is nothing to lose and everything to gain in talking about Watching.
If we share our struggles, our griefs, our joys and our questions, the worst that can happen is someone say I don't get it. Watching, and everything you're talking about Emily, it just does not exist in my world.
And that's okay! That's natural. We all have different 'Things' in our universes.
2. Just because it hurts doesn't mean it's wrong
If someone responds like that it may hurt. It may feel like they're saying 'I don't get you.' But that doesn't make sharing wrong. Just difficult.
But what if I share, and someone looks me in the eye and says, 'me too!'
What if they write a note which reads: I know what you mean.
Then love has been shared, understanding built, and perhaps, just perhaps, a life saved, a day redeemed, a perspective renewed, or a relationship restored.
Sharing about Watching someone struggle with an illness is hard work. It's difficult to know what to write and what to tuck closer to our heart. It's not easy to share your life, and open it wide to judgement and misunderstanding and criticism.
But just because it's not easy, doesn't mean it's wrong.
3. This blog will never be popular – but I write anyway
Blogging has also taught me that even though Watching is a 'Thing' for me, it's actually not a very big 'Thing' for many others.
What I mean is this: out of all the blogs on the internet – most of them are not going to be about Watching.
Out of everything that becomes an internet sensation – 9.999 times out of 10, it won't be an article about loving someone with a chronic illness.
My blog will never become famous, well-read, or go viral. Partly because most people who are currently 'Watching' are actually busy (you guessed it!) Watching. They may not spend that much time on the internet, or if they do, they may not have the energy or inclination to interact or share.
In choosing this blog topic, I am not lining myself up to become a 'successful' writer.
Sometimes this can feel frustrating (who doesn't want people to read what they've poured time and energy and money in?) but even so I know that it is good.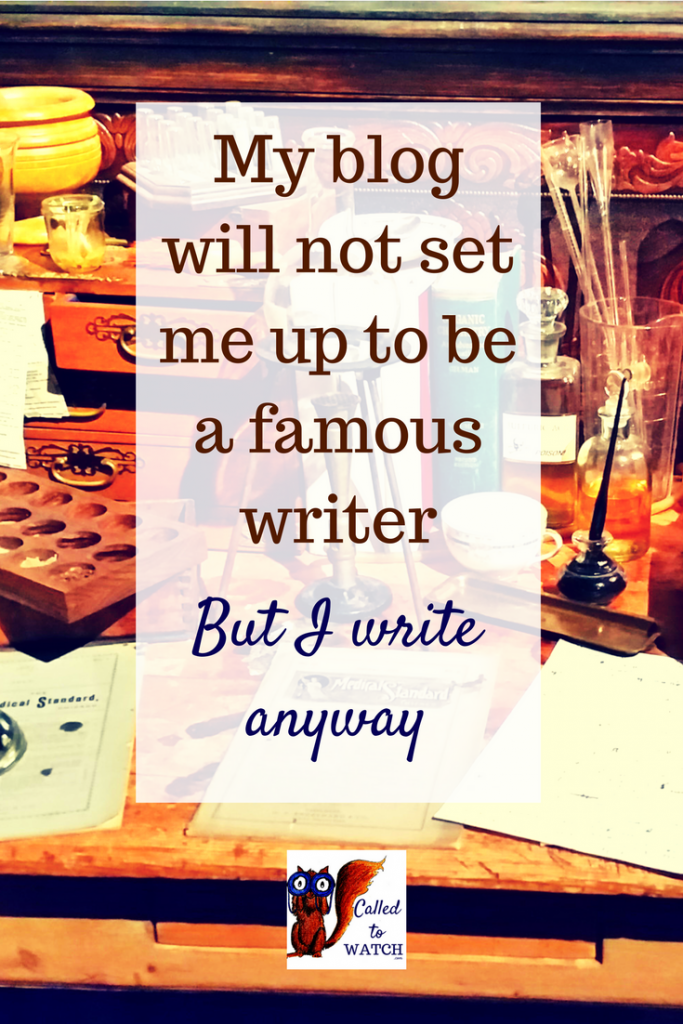 4. I write because joy can exist in the midst of suffering
Why? It keeps me humble. It forces me to be dependent on God. It draws me back to the reason I created this blog.
Not to become a famous author, but to follow down a path I felt God leading me. To be faithful to the life and interests He has given me. To glorify His name, by trying to do well what I am called to do.
I chose this topic, not because it would have a wide audience, but simply because I cannot write anything else.
This is what I long to write, in this time, in this place, at this stage.
This brings me joy, this makes me excited, this keeps me up at 2 am and causes me to work 20+ hours some weeks on this blog after I get home from my day job.
God, in His utter mercy, has given me joy in the midst of what is still very real sorrow. I can't speak for every Watcher.
I certainly can't speak for those struggling with chronic illness, but I can speak for myself, and so I say:
This is what I learnt from half a year of 'serious' blogging:
It is:

important,

Difficult,

Not widely applauded,

But a joy and a privilege,

To follow my calling

And write about loving people who are sick.
// What have you learnt over the past year? Any words of wisdom to share? I'd love to learn from them!
PS: Enjoyed the post above? Get the next one delivered straight to you! Sign up for email notifications  
I'm also on Facebook, Pinterest & Twitter! Meet me there for more interesting reads, resources and community.
And last but not least… Happy Christmas! I hope you all have a lovely holiday.
I'll be back after the 25th, but in the meantime, here are 3 downloadable and printable cards suitable for someone with a chronic illness or anyone in need of some love!