I've written about prayer in Why we need to make up our minds about prayer and Why we should pray for healing from chronic illness.
But the Big Tricky Question keeps niggling at me.
It's this:
Not everyone who prays is healed.
So what do we do (as Christians and/or as Watchers) with the parts of the Bible that promise immediate healing?
Why do passages in the Bible promise healing but not deliver?
First disclaimer: I'm not a trained theologian.
Second disclaimer: context is important, but for the sake of a read-able blog post I haven't included the surrounding chapters of each of these verses.
Third disclaimer (this is the most important!): I can't promise a miracle. But I can offer you company as you look through theses verses and puzzle over them. I can offer you my thoughts, and a chance to put aside your assumptions and your aching heart to read these passages anew.
Will you join me?
Prayer = Healing
There are not as many passages on this topic as we perhaps like to think.
Mathew 7:7-8
Ask and it will be given to you; seek and you will find; knock and the door will be opened to you. For everyone who asks receives; the one who seeks finds; and to the one who knocks, the door will be opened.
In context this verse does not seem to be referring to us receiving 'anything' (ie. healing), but rather entry into the Kingdom of God.
Later on Jesus says that  God will not hesitate to give what is good to His children, just like a good father. It appears 'the good' specifically mentioned is the Spirit, or salvation.
Summary: God gives us what is good, and will save all who ask. 
Mathew 18:19-20
Again, truly I tell you that if two of you on earth agree about anything they ask for, it will be done for them by my Father in heaven. For where two or three come together in my name, there I am with them.
In context, Jesus is talking about the Kingdom.
I don't think this is a 'blank cheque' for healing.
There is a notion, however, that somehow God is present in a special way among believers in community, and blesses their prayers.
Summary: God is present when we pray together and will not fail to bring about good for His kingdom: He is a loving Father.

Mark 11:22
And Jesus answered them, "Have faith in God.  Truly, I say to you, whoever says to this mountain, 'Be taken up and thrown into the sea,' and does not doubt in his heart, but believes that what he says will come to pass, it will be done for him. Therefore I tell you, whatever you ask in prayer, believe that you have received it, and it will be yours.
Faith
Hebrews 11:1 explains that 'faith' is "having confidence" or "belief". Yet we are also told that the "Ancients" who were "commended" for their faith, "did not receive the things promised." We know King David, a "man after God's own heart" prayed for his dying son, only to watch him pass away.
Faith does not automatically mean physical healing.
Prayer
Prayer is not like a magic wand which anyone can snatch up.
Prayer is useless without faith.
Prayer + Faith
To pray for something and not doubt it will be answered is to know that such a prayer is God's Will and desire.
Can we pray such prayers about physical healing? Sometimes, but not always.
Summary: Faith and prayer are interlinked. Prayer arises from faith, and faith changes our prayers. But healing does not rely on the strength of our faith, but on God's Will.
James 5:14-16
Is anyone among you sick? Let them call the elders of the church to pray over them and anoint them with oil in the name of the Lord. And the prayer offered in faith will make the sick person well; the Lord will raise them up. If they have sinned, they will be forgiven. Therefore confess your sins to each other and pray for each other so that you may be healed. The prayer of a righteous person is powerful and effective.
This passage seems to propose that prayer + faith = definite healing. Some suggest this 'sickness' is spiritual. There does appear to be a link between sin and sickness.
James' original recipients would have understood. Two millennia later, we can simply say:
Prayer is the right response to sickness
It's right to ask for prayer
prayer is part of Christian community
Prayer is powerful
Somehow, in some situations, personal sickness is related to personal sin (we can see this especially in the Old Testament)
I think the "therefore" seems to indicate that this is a spiritual sickness related to sin. Then again, the first few lines give no indication that this is the case.
It's crucial to note that elsewhere Jesus rebukes those who assume that sickness or misfortune is always the direct result of sin (John 9:3).
Summary: Sometimes sin can be related to sickness. If this is the case, God will bring healing after confession, repentance and prayer.
John 14-16
"And I will do whatever you ask in my name, so that the Son may bring glory to the Father." 14:13 
Also: 15:7-8, 16:24
The context to these promises is Jesus sending out his twelve disciples to show God's glory to the nations. I'm not sure we can take them to mean Jesus will always answer prayers for healing, but they do reveal God will answer the disciples' prayers so that:
He will receive glory
They will bear fruit
Their joy in Him may be complete
In our prayers for healing, are we looking for God's glory?
Summary: The Son brings glory to the Father, so prayers prayed in His Name must have that as their objective also. Prayers aligned with God's purpose for glory will be granted (vs.7).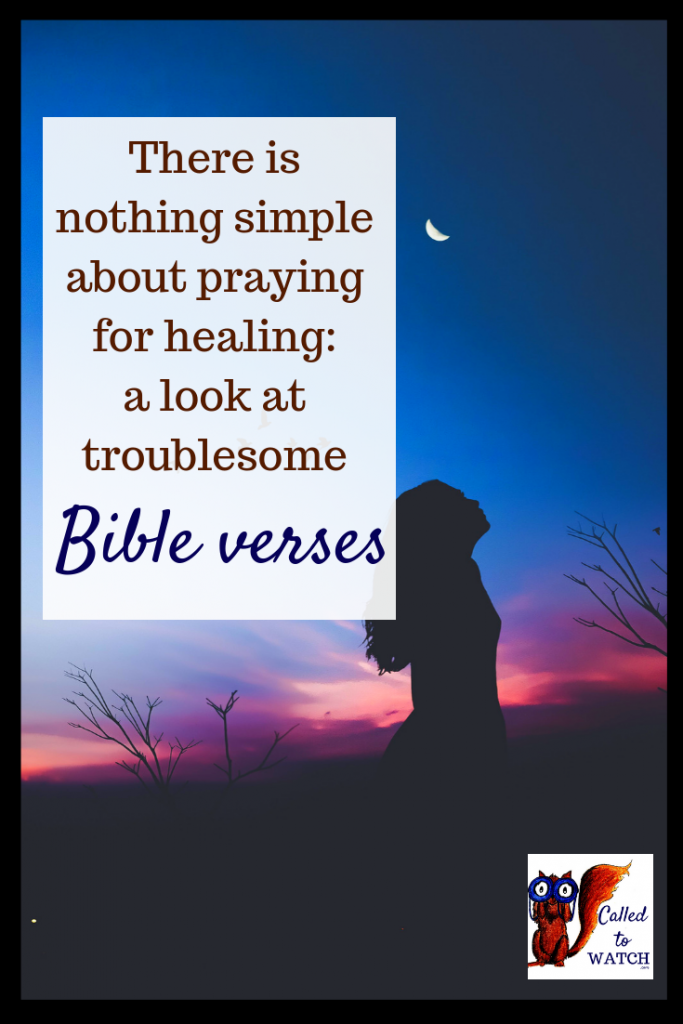 To conclude
What do these passages say?
If God answered every prayer exactly how we wanted it, when we wanted it, He would not be God, nor a good Father. He would be a 'wish-granting factory'.
We've learnt that:
God does not answer prayers arbitrarily, or on a whim.
God takes petitions seriously, and in fact, asks us for them.
He longs for us to ask for what He desires for us. Such prayers are only possible through faith. Faith knows the character of God.
So they don't promise immediate healing?
Did you want them to? Of course! I did. I'd like a magic word or a magic phrase – a quick fix to suffering.
But is that the sort of God I want? One who will do whatever I want? One who trusts that I know best?
I don't think so.
What now?
That's up to you.
The road is open from here. In the Bible some people were healed by prayer. Many, many were not. This situation did not cause the faith of God's people to crumble, and it needn't destroy ours.
I used to hate these passages with a hot, furious passion. They seemed to laugh in my face and mock my reality.
I would read them viciously, muttering all the while 'ha! Lies! All lies!' (Yes, I actually did… I can, erm, be very 'dramatic').
I still find them difficult.
I suspect I always will. But I am learning to treasure them for what they tell me about God.
I am learning to come to them – not with demands and questions about when God is going to heal and how dare He not promise irrevocably to do so – but with a heart that asks, 'what is my Saviour saying to me today?'
So much of the problems I had drifted away the first time I tried leaving my ego at the door before I opened my Bible.
// How do you approach these passages? What desires do you bring? How do they frustrate you? Have you been challenged to read them differently?
---
This is part of a series:
Why we need to make up our minds about prayer
Why we need to pray for healing (and 3 reasons it's so hard)
But God didn't answer when Jesus prayed..
---
Comment and join the conversation here!
PS: Enjoyed the post above? Get the next one delivered straight to you! Sign up for email notifications  
I'm also on Facebook, Pinterest, Instagram & Twitter! Meet me there for more interesting reads, resources and community.